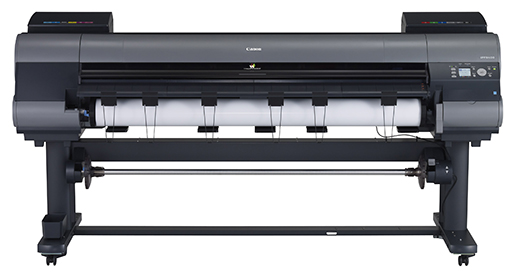 A review of the new Canon iPF printers – 12-color Lucia EX ink sets, built in multi-sensor, and more.
Canon recently announced a few new models of their imagePROGRAF series printers. Exciting new improvements and software solutions are coming our way. Let's take a look at what's new…
The Bottom Line
It seems like every year or so a new series of high-quality, wide-format inkjet printers is released with new bells and whistles and moderate performance enhancements. One reason that we are really excited about Canon's new iPF9400 is that it is the first 60" printer to be released by Canon or Epson in over 5 years! While the two industry-leading printer manufacturers have released new generations of printers since then, none has been wider than 44″. Therefore, if you in the market for a new 60″ wide printer and want the absolute latest in printing technology, the Canon iPF9400 delivers.
The Breakdown
The new printers are:
iPF9400 (prints up to 60″ borderless, includes a 250 GB hard drive and a media take-up reel, pictured above)
iPF8400 (prints up to 44″ borderless, includes a 250 GB hard drive)
iPF6450 (prints up to 24″ borderless, includes a 250 GB hard drive, allows for an optional Spectrophotometer)
iPF6400 (prints up to 24″ borderless)
These printers are perfect for large format Giclée and Fine Art Prints. In the highest print mode, the ink application is optimized to maintain the best print quality with fewer print head passes, making this print mode twice as fast as previous models. The addition of a 250 GB hard drive increases productivity, by processing print jobs faster and allowing you to reprint jobs directly from the printer itself. Kudos to Canon for including this in more printers. I love that feature since I can store my most popular files on the hard drive and reprint directly from the machine, which speeds things up…a lot!
The optional Spectrophotometer for the iPF6450 scans 10 inches per second and is compatible with media of different thicknesses. Any profile built on the 6450 will also work with a 9400, 8400 and 6400, allowing for consistent color output between all x400 series printers on the same network. This is a must have for anyone looking to buy multiple printers, being able to profile directly through the printer is a great time saver.
Ink
The new Canon products will feature 12-color Lucia EX ink sets to achieve the best color possible. 24" printers will now be able to use the 330ml tanks instead of just the 130ml cartridges. The 44" and 60" printers have an option for either 330ml or 700ml!
All models now include a sub-ink tank system which will allow changing the ink tanks without stopping the print run.
Ink formulas have been improved as well, providing a greater range of vibrant colors and more fine detail, as well as reduced bronzing and better scratch resistance. This will certainly help with prints done on fine art papers, that are typically prone to scuffing.
New Multi-Sensor
All models come with a built in multi-sensor that improves density detection accuracy over previous models. Automatic color calibration is now done a lot quicker with only a few simple steps. With the included software, you can make multiple printers of these series match perfectly.
Software
New Adobe Photoshop print plug-in has a gallery wrap feature, which allows you to quickly and easily create canvas prints for gallery wrap stretching. That is a very neat feature, quite overdue too. This will be especially helpful to those new to printing. Making gallery wraps quickly and accurately without having to spend money on extra software to do it is a great add-on.
The plug-in will also allow you to work with RAW files straight from a DSLR camera. Most printmakers will want to edit the photos prior to printing, but this is handy to run off some proofs, so you know exactly what adjustments to make.
Color Calibration Management Console allows centralized color management of all the x400 series printers on the network, remotely monitor and execute color calibrations for printers, determine the media type loaded in each printer, and read accounting information from each unit as well.
Adjustment Pattern Setting will print multiple different versions of an image with various color settings to choose the output that's right for you.
Accounting manager lets you see and manage the print costs and other information, job cost (ink + media), ink consumed per job, media consumed per print and job completion time.
The printers are available now from your local Canon resellers. Do you own one? We'd love to hear from you via the comments below…